Microsoft
Learn About the Latest Innovations, Customer Stories, Upcoming Events, and More
cellpadding="0" border="0" align="left">Dynamics 365 Newsletter - July Edition Podcast: Supporting inclusion through flexible work models
Connected & Ready welcomes Stephanie Nadi Olson, an expert on and long-time leader in remote work. Stephanie shares a vision for the future of work: when companies connect with their employees' passions as well as their experience, they can create a more inclusive, innovative, flexible, and liberated workforce. The conversation addresses how to keep remote employees engaged, the unique challenges of managing remote teams, how companies should be thinking about remote work right now, and how embracing remote work can help companies be more inclusive and reimagine assumptions that might be holding their culture back. 
 
 
Enhancing Your CX
 
Read this e-book to discover how Microsoft Dynamics 365 Marketing helps you win customers and earn loyalty with messages and experiences you provide at just the right moment.
 
Read the e-book >
 

 
 
Contact Centers and CX
 
Check out this Forrester study on how upgrading contact centers, integrating them with CRM systems, and cloud-based connections of the two improve customer experience.
 
Read the study >
 
Agile Digital Supply Chains
: Supply chain digital twins enable real-time collaboration both upstream and downstream across multi-enterprise networks via increased visibility and agility.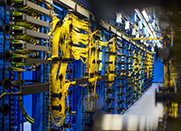 Azure and Biz Apps Data
Azure Synapse Link for Dataverse, ensures that data flowing into customers' business applications is also flowing into their analytics solution.
Transform Manufacturing
Discover how Dynamics 365 Remote Assist on HoloLens2 improves manufacturing to boost productivity, reduce unplanned downtime, and cut costs for global suppliers.